IMAGES OF NATURE CONSCIOUSNESS
---
TERJE VIGEN'S BOAT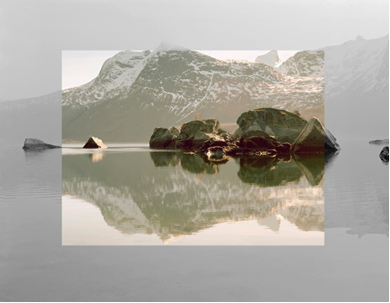 AN EXHIBITION OF PHOTOGRAPHS
OF COASTAL NORWAY
BY CARLL GOODPASTURE
WITH ACCOMPANYING POEMS BY GRAY SUTHERLAND
GREATER VICTORIA COMMUNITY ARTS COUNCIL
1001 DOUGLAS STREET, VICTORIA, BC
12 – 19 JULY 2007
This exhibition is both a spiritual journey and a mixing of media. Its artistic form derives from the classic Norwegian ballad, Henrik Ibsen's Therie Wiighen, which was probably written in 1861and was in any event first published in 1862.
Terje Vigen's Boat is more than this exhibit, however. It is also the embodiment of an ongoing collaboration between a literary and a visual artist. The story begins in 1808, with a Norwegian fisherman named Terje Vigen who was a tragic victim of war yet who attained extraordinary heights of physical and moral heroism, and resumes nearly two centuries later with two artists who were visiting Norway and who were charmed by the environment into visionary thinking about a land and its people.  The photographer was investigating a landscape where its people still tell the story of Terje Vigen and still build boats in the traditional way. The poet was entranced by the beauty of the images and overwhelmed by the moral grandeur and spiritual depth of Ibsen's seafaring tale.
Finding the boat, as it were, as if by coincidence, we set out together to express our artistic intentions, discovering wonders and strange truths at every pull on the oars. Thus Terje Vigen's boat became Terje Vigen's Boat.
Terje Vigens Båt was first exhibited in Norway in July 2006, in connection with the Ibsen Centenary. The exhibition continues as a travelling exhibition in Norway and debuts in Canada in expanded form as Terje Vigen's Boat.
The Story of Terje Vigen 
Terje Vigen was a humble man who lived in a fishing village near the modern day city of Grimstad, on the south coast of Norway. His grave is still there.
At the time his story takes place, Norway was still part of the Kingdom of Denmark. During the Napoleonic Wars, Denmark tried to remain neutral, but in 1808, after having been twice attacked by the British, she allied herself with France. The British retaliated by imposing a naval blockade on Denmark; which also meant Norway.
In 1809, the crops failed in Norway and famine gripped the land. Terje Vigen was then newly married, with a baby daughter whom he adored. He struggled hard to feed his family, and often had to go far afield to obtain grain and other necessities. But eventually no more food was to be found, and in desperation Terje decided to row across the sea to Denmark, a distance of some 150 km, to seek provisions there.
On the appointed day, he set out alone in his sjekte, a simple wooden fishing boat, and rowed for three days before he reachedDenmark. There he loaded his boat with all the supplies he could safely carry, a mere three casks of barley, and set out for home again. He almost made it but just as he was approaching the shore he was spotted by a British frigate. A cutter was launched to stop him. A terrible race ensued, but the British sailors finally caught and overpowered him. His boat was staved in, its precious cargo sunk, and Terje was dragged aboard the frigate. Falling to his knees before the young captain, he wept and begged for the lives of his dear ones, but the Englishman showed no mercy.
Terje spent the next five years in the hulks at Chatham, England. When the war ended in 1814, the Norwegian prisoners of war were repatriated. But when Terje returned it was to an empty house: his wife and child had starved to death and had been buried by the parish in a pauper's grave. For many years afterwards he lived alone, grizzled and embittered, on the "outermost barren isle", as Ibsen described it, while gradually acquiring legendary fame as a pilot, saving many a ship and its crew from storms and treacherous waters.
One moonlit night he was called upon to assist a British yacht that was on the point of foundering, her mainsail torn and her jib split.  Terje went aboard and righted her. Then he saw who her owner was. It was his former captor, the tormentor of his soul, the captain of the British frigate, with his own wife and daughter by his side. Their fate now lay in his hands; the opportunity for revenge had come.
Terje ran the yacht aground and, with the unsuspecting Englishman and his family beside him, took to the cutter. The boat sped through the waters to a sheltered cove where a sunken sjekte lay, and there Terje stove in her bottom. Seeing that the water where they were standing was barely knee-deep and that the seabed was shifting, the Englishman turned to the pilot in surprise. The answer he received brought back a distant memory: "Here is no cause for grief; a sunken dory supplies our relief, three barley grain casks our dock!' At that moment he realized who his saviour was. He fell to his knees, weeping, pleading for his life and that of his loved ones.
But Terje Vigen did not exact the revenge the English lord and his wife expected. He could not bring himself to kill them. Indeed, not only did he save their lives but also spared them and then sent them on their way homeward, joyfully.
For by saving them he also saved himself; by bringing the Englishman to that very spot, he brought himself there too, thus vanquishing his own spiritual death and becoming a free man again.
Nor was it really he who spared them. It was the child, golden-haired, who had rescued them all.
Carll Goodpasture
The Photographer
Carll Goodpasture studied photography and cinematography at California State University, Los Angeles, and entomology at theUniversity of California, Davis (Ph.D. 1971). Throughout his career he has combined scientific research, teaching and nature photography. He has twice exhibited at the Smithsonian Institution. Among his publications are "Insects and Gardens" (Portland, Timber Press, 2001, with Eric Grissell) and two science books for children "Flowers and Bees" and "The Secret Life Of Spiders" (both published in Norway in 2000).  At present he teaches Photography and Visual Culture Studies at the Haslum Tverrfaglige Kunstinstitutt in Norway.
Goodpasture's oeuvre as a photographer is directed towards what he describes as nature consciousness. "Although the challenge is monumental, documentary nature photography can help unite concern for the natural environment with the persuasive powers of visual art."
To research the background to Terje Vigen's Boat, he went to Grimstad, where he visited the municipal museum and interviewed boat builders, who still build wooden boats in the same traditional way. He also talked to local people about their knowledge of Terje Vigen's story, and photographed boats that could very well be identical to the sjekte Terje Vigen rowed to Denmark. Little by little, Terje Vigen's boat itself took on a sort of emblematic quality for him, first of the vitality of tradition among the people who live on the south coast of Norway, and then, by extension, of their relationship with nature. "In Norway, especially along the south coast, nearly everyone has a connection with the sea and the shore. Historically, this was for transportation, communication, and livelihood. Today, recreational use dominates much of this landscape – plastic boats and vacation homes."
The photographs in the Terje Vigen's Boat series were taken over a period of several years during his search for the place where Terje Vigen might have set out on his fateful journey and where his boat might have sunk. They comprise a sequence of coastal landscapes taken looking out to sea. Those from the Solstice Light series are icons of balance and return, the underlying and superimposed images having been taken at the summer and winter solstices at the same place.
In an acknowledgement of the persistence of cultural tradition among the southern coastal people of Norway, the cover pages of the book accompanying the exhibition, as well as the other pictures of boats, picture contemporary wooden craft built in the tradition of Terje Vigen's time.
Gray Sutherland
The Poet
Gray Sutherland studied Philosophy at Trinity College, Dublin, and French and Philosophy at the University of Calgary (M.A., 1975). In 2000, after a career as a translator in government service, which among other places had taken him to Norway, where he met Carll Goodpasture, he retired in order to devote himself to his writing. Since that time he has published two collections of poetry (Comanche Moon, 2001, A Homecoming, 2005), a novel (A Twittering of Sparrows, 2005), and Terje Vigens Båt (2006). A third poetry collection, When I See Mountains, will appear later this year.